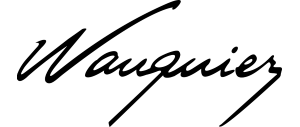 A boat for life !
In 1965, Henri Wauquiez, Yachting addict, built up the first Wauquiez,  writing there the first page of the Wauquiez history, which is today more than ever, based on an exceptionnal craftman ship, the attention to the detail and the respect of the state of the heart. It results into comfortable, secure and fast boats which,  are still actively chassed by second hand buyers .
The first Elizabethan and Pretorien have been replaced by the magnificent Centurion and Pilot Saloon range and the same passion still drives the entire Wauquiez team: making every new sailboat an example of excellence.
Wauquiez construit dans son usine de Neuville en Ferrain près de Lille ses bateaux d'exception.
Un Wauquiez est avant tout un voilier de haute mer : quel que soit le modèle, les échantillonnages sont prévus en conséquence.
The structure of a Wauquiez consists of a floorage (monobloc on some models) glued and laminated to the hull, as the bulkheads are. The keel is fixed by stainless steel bolts and a perfect rigging tension and appendages strength distribution is ensured by their total integration to the structure of the boat.
Hull construction:
The hull is molded with the utmost care, using bisphenol resins for the outer layers, to ensure a healthy and very long life to your boat. Today, Wauquiez also uses the infusion technique which, beyond the protection of the environment, guarantees an optimal resin / fiber ratio, exceptional rigidity (balsa sandwich) as well as an important weight gain.
Deck construction
The deck is also made of balsa sandwich, for excellent rigidity, and perfect sound and heat insulation; This appreciable weight gain "in the highs", adds to the stability of your Wauquiez. The hull / deck junction, is made by a polyurethane bonding and a mechanical connection. Finally, if you have chosen a teak deck, it is nice to know that it is laid wood batten by wood batten, in the tradition of high-end sailboats.
Deckware :
There is rarely a hardware and rigging more carefully choosen than on a Wauquiez: only the best global brands are retained. But beyond the quality of the equipment, this choice is also for you the guarantee of an excellent service at all your stops, on all the globe seas.
Wood work :
It is undoubtedly inside a Wauquiez that the love of the job well done, which animates the cabinetmakers of the shipyard, is the most obvious.
The furniture and bulkheads are varnished and adjusted with remarkable care, to the delight of the eyes and the touch! The natural lighting of the panels and portholes, as well as the warm light of the lighting, both create an inimitable atmosphere, highlighting the exceptional finish of the woodwork of each Wauquiez sailboat.
Découvrez la gamme Wauquiez